eGift aims to boost LINE Gift, which grew 250% in 2020

Aims to make gift-giving equally easy for online and offline items
It is our pleasure to announce the launch of the eGift Platform on the LINE GIFT service, starting January 29, 2021. LINE Gift is a service that allows you to send gifts to friends and family through the LINE application. This service is provided by LINE Corporation (HQ: Shinjuku-ku, Tokyo, CEO: Takeshi Idezawa).

LINE Gift grew 250% last year
LINE Gift is a communication service that allows friends to send gifts over LINE Messenger. Even if you don't know your friend's address and even if you haven't met them in person, you can still easily send them a gift on LINE. It's a service that can be used in various situations, such as during seasonal occasions, an important life event, or just as a simple way to say thank-you. A diverse lineup of gifts, from simple convenience-store products to intricate products, are available, so users can easily select the most suitable items depending on what they need. In addition, as the COVID-19 pandemic has made it difficult to meet people in person, LINE Gift has acted as a channel for users to convey emotions and affection. In fact, 2020 saw LINE Gift enjoy rapid growth, with the total distribution value up 250% compared to the previous year.
LINE Gift's most popular product is the eGift, which sells products and services offered at physical stores as digital gift certificates.
A popular item on LINE Gift is the digital gift certificate, called an eGift. Stores can sell their products and services as eGifts, and then users can redeem the corresponding products and services at the issuing stores.
Depends on each store, eGift comes in various formats, such as barcodes, QR codes, digital stamp tickets and coupon codes. The expiration date is customizeable, and the usage time and location info can be recorded.
Since eGifts are digitalized products and services are provided at physical stores, it is possible to offer them at a lower price point. This is something ecommerce has not been able to offer before, due to restraints such as delivery fees.
eGift Platform launched, enabling the sale of eGift on LINE Gift
With this rapid growth, LINE Gift launched a new eGift Platform to further accelerate the spread of eGift to LINE's 86 million monthly users in Japan (as of September 2020).
Until recently, in order to sell an eGift on LINE Gift, an in-house management system dedicated to LINE eGift or a third-party ASP linked to LINE Gift was required. Now LINE's eGift Platform has made the entire process easy, from issuing and selling eGift on LINE, to redeeming at stores, and managing data all at once on LINE Gift.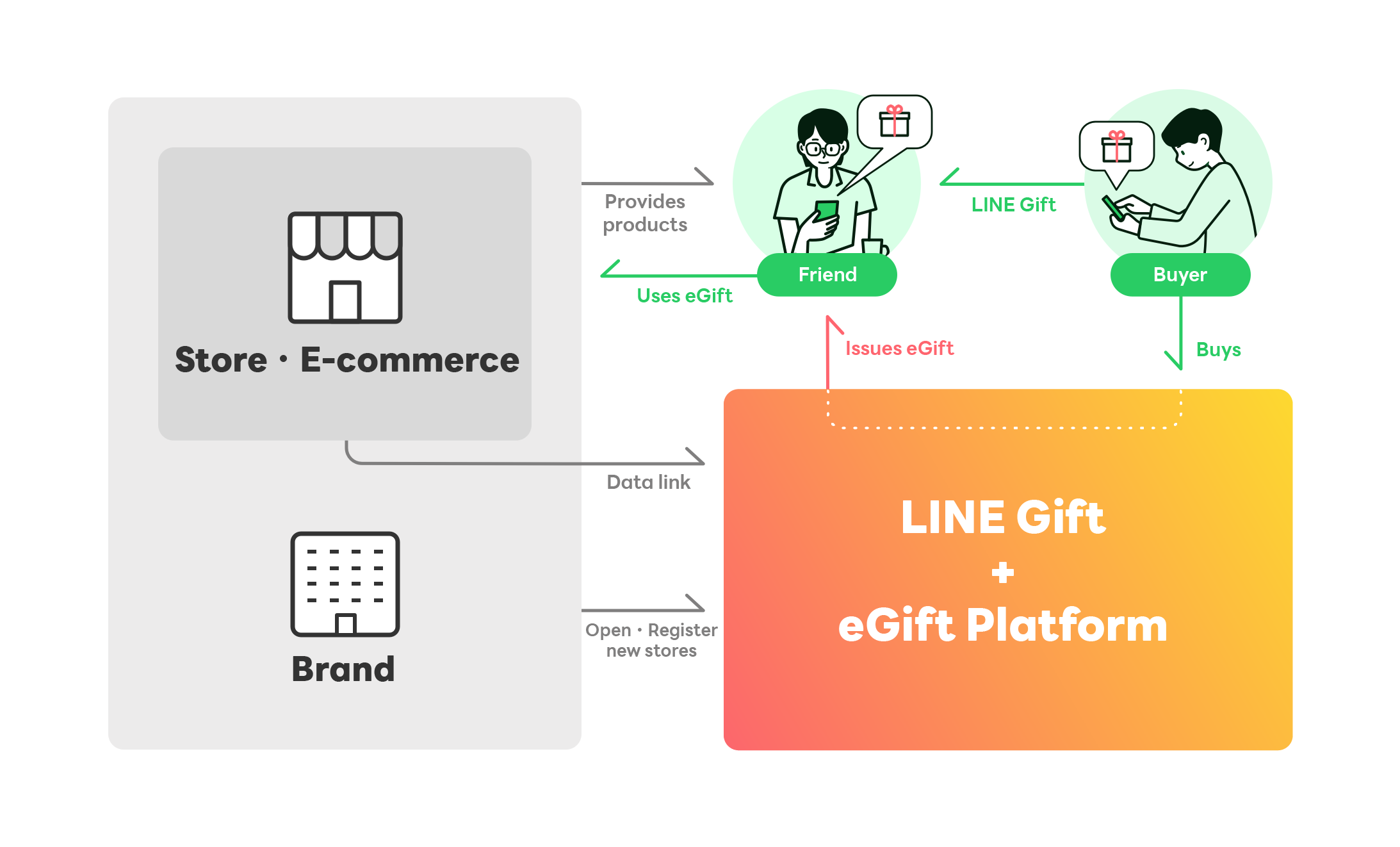 In the future, LINE's eGift Platform will continue to develop and provide functions closely linked to the general LINE platform as well as LINE Gift itself. We will also expand its usage as communication infrastructure, for a new normal where everything online or offline can be sent on LINE.
After this release, this service will continue to be upgraded and LINE's eGift Platform will open for registration soon.